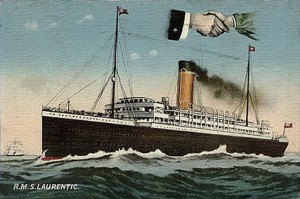 The former White Star liner Laurentic (1908) struck two mines off Lough Swilly, Ireland, on 25 January 1917.
HMS Laurentic, which had been converted into an armed merchant cruiser upon the outbreak of World War I, sank within an hour. Of the 475 men onboard, 354 were killed and 121 survived. Among the survivors was John Treasure Jones, Queen Mary's last captain.
Laurentic was fitted with four-inch deck guns and prior to her last journey served on North Atlantic patrols performing escort duties. In late December 1916, Laurentic was recalled to Liverpool to prepare for what was to become her last voyage. In fact, Laurentic was commanded to undertake a special mission of the utmost secrecy. Her captain was under orders to deliver a cargo of great importance to Halifax, Nova Scotia, but that was as much as he knew at the time. The secret cargo was actually payment to the US and Canada, who were supplying Britain with munitions and various types of military equipment for the war effort
Laurentic was transporting about 43 tons of gold bars on her final voyage. All but about one percent of this precious cargo was salvaged by Royal Navy divers after the war. Yet approximately 20 bars, worth millions, remain missing, presumably buried under Laurentic's hull.
White Star Line launched a second Laurentic in 1927. She, too, became a casualty of war, sunk by a German U-boat off the coast of Ireland in 1940.

Please help keep Ocean Liners Magazine afloat. Any amount will be greatly appreciated. —Regards, John Edwards Editor/Publisher.