With Kaiser Wilhelm II attending, HAPAG's Bismarck was launched on 20 June 1914 at the Blohm und Voss shipyard in Hamburg. With World War I on the horizon, the liner sat uncompleted for the next seven years.
The 56,551 GRT Bismarck was 956 feet long, 100 feet at beam and had a rated service speed of 23.5 knots.
In 1919, Bismarck was handed over to the British government in reparation for vessels lost during the war. In 1921, the ship was sold to White Star Line.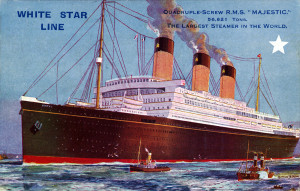 In 1921, after a suspicious fire was put out, work resumed on the liner later at Blohm und Voss under the close supervision of both White Star and Harland & Wolf managers. Renamed Majestic by White Star executives, the liner was ready for her sea trials in March 1922.
Whether it was the result of a clerical mistake or any act of defiance by German shipyard workers will never be known, but the new White Star Line flagship went to sea in HAPAG livery. Quickly repainted in White Star Line colors, Majestic sailed for the company until its 1934 merger with White Star Line, and briefly thereafter for Cunard-White Star Line.
In her White Star configuration, Majestic could carry 750 first class passengers, 545 second class passengers and 800 third class passengers. In In July 1936, Majestic was converted into a training ship and renamed HMS Caledonia. She was destroyed by fire in September 1939.
Majestic was the last White Star vessel to hold the distinction of being the world's largest liner.

Did you like this article? When you buy anything through the link below, Amazon will contribute a small amount to Oceanliners Magazine at no extra cost to you.
Shop Now