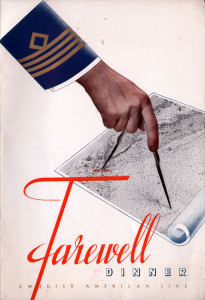 Swedish American Line (SAL) sailed away from transatlantic passenger service on 22 March 1975, suspending operations "indefinitely" (as in "forever").
Founded in December 1914 as Rederiaktiebolaget Sverige-Nordamerika, the company began passenger service from Gothenburg to New York the following year. In 1925 the company changed its name to a far more pronounceable Svenska Amerika Linien (Swedish American Line).
SAL played an important role in 20th-century emigration from Scandinavia to the US and Canada. The company also carried many businesspeople and tourists to and from Scandinavia. The company and its ships were the pride of Sweden and the vessels, officers and crewmembers considered the elite of the Swedish merchant fleet.
One former Swedish American Line ocean liner remains the ultra-venerable, much-rebuilt, and frequently renamed Stockholm (1948), which is best remembered for ramming into and sinking Italian Line's Andrea Doria (1953) on the night of 25 July 1956. In February 2021, the ship renamed Astoria, was put up for auction with a minimum sale price set at €10 million. Final bids were to be submitted by March 1. The deadline passed without any offers. The ship remains in custody in Rotterdam while the owners and creditors deliberate on the next course of action.
There was a time when nearly every major nation (and numerous minor countries) bordering on a sea or ocean had its own national passenger shipping line (sometimes several). By 1975, that time was long gone. Airlines had become the new national flag carriers, although by the dawn of the 21 century that market would also be radically changed.

Please help keep Ocean Liners Magazine afloat. Any amount will be greatly appreciated. Think of it like tipping your history steward.
—Regards, John Edwards, Editor/Publisher.