Inman Line's City of New York (1888) had it all: speed, beauty, and thrills.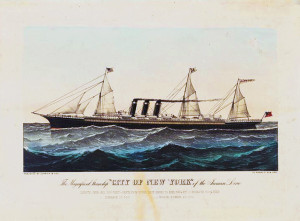 City of New York was launched on 15 March 1888. The launch took place not in New York, or even in the US, but at the J&G Thomson shipyard in Clydebank. The new liner was, however, named by New York-born Lady Randolph Churchill, mother of future UK prime minister Sir Winston Churchill.
The 10,499 GRT City of New York was 528 feet long with a 63-foot beam. She featured three masts and three funnels. The vessel, which could accommodate 1,740 passengers and 362 crewmembers, reached 20.2 knots during her speed trials.
Like her sister ship, City of Paris, which was launched the same year, City of New York was noteworthy for being one of the first liners equipped with twin-screw propellers. This experiment in propulsion proved to be an immediate success—a fact that no doubt helped the liner's capture of the Blue Riband from former holders Umbria (1884) Etruria (1885) and of Cunard Line.
Paris ultimately proved to be the faster of the two ships. Both liners, however, sailed long and successfully. In 1893, the vessels were merged into American Line. At that point, their names were shortened to New York and Paris, respectively. Both ships sailed for the US in the Spanish-American War. In 1903, both liners were remodeled by having a mast and a funnel removed.
New York would make news—and nearly rewrite history—on 10 April 1912 when she almost collided with White Star Line's Titanic (1912) as the latter ship departed Southampton on her maiden voyage.
New York was scrapped in Genoa in 1923.

Please help keep Ocean Liners Magazine afloat. Any amount will be greatly appreciated. Think of it like tipping your history steward.
—Regards, John Edwards, Editor/Publisher.