Normandie is renowned for her interior and exterior beauty. Yet like all great lookers, Normandie also had a downside: a chronic vibration issue.
It is said that cocktail glasses in Normandie's aft, upper deck Cafe Grill could only be half-filled, since the liner's vibration would splash the contents of topped-offed glasses all over the passengers
The vibration problem was greatly reduced by replacing Normandie's four-blade propellers with a set of newly designed three-blade models. Yet the issue was never entirely resolved. At one point, Normandie's owners decided to investigate her propellers by sending a diver down to check them out for any potential problems. The diver reported back that all three propellers appeared to be in good shape. This fact surprised the chief engineer and other senior officers, since Normandie was equipped with four propellers. One, obviously, was now resting somewhere on the seabed.
All of this leads to a 1936 newspaper story about a singer, her kidney stone, Normandie's vibration problem and a lawsuit: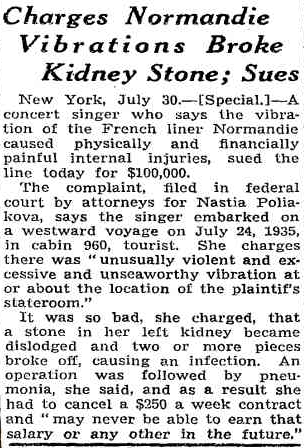 Please help keep Ocean Liners Magazine afloat. Any amount will be greatly appreciated. Think of it like tipping your history steward.
—Regards, John Edwards, Editor/Publisher.