Transatlantic ocean liners are often associated with glamourous celebrities, but in the 1960s—during the twilight of the liner era—a trio of ships actually made headlines for the cargo they carried. For two separate historic art exhibitions in the first half of the decade, liners were entrusted with the transportation of immortal artworks that were deemed far too precious for air transport.
First to head overseas was Leonardo Da Vinci's Mona Lisa, which The Lourve loaned for a brief time to the National Gallery of Art in Washington and New York's Metropolitan Museum of Art. After much debate over whether the fragile masterpiece could withstand the journey, on 14 December 1962, Mona  Lisa was created and carefully loaded into her own stateroom (with an armed guard) on French Line's sleek new superliner France (1960) for the trip to New York.
The painting, which arrived in the US safely and without incident, attracted massive crowds at shows in both Washington and New York. Mona Lisa safely returned home—this time on United States Lines' United States—a few weeks later.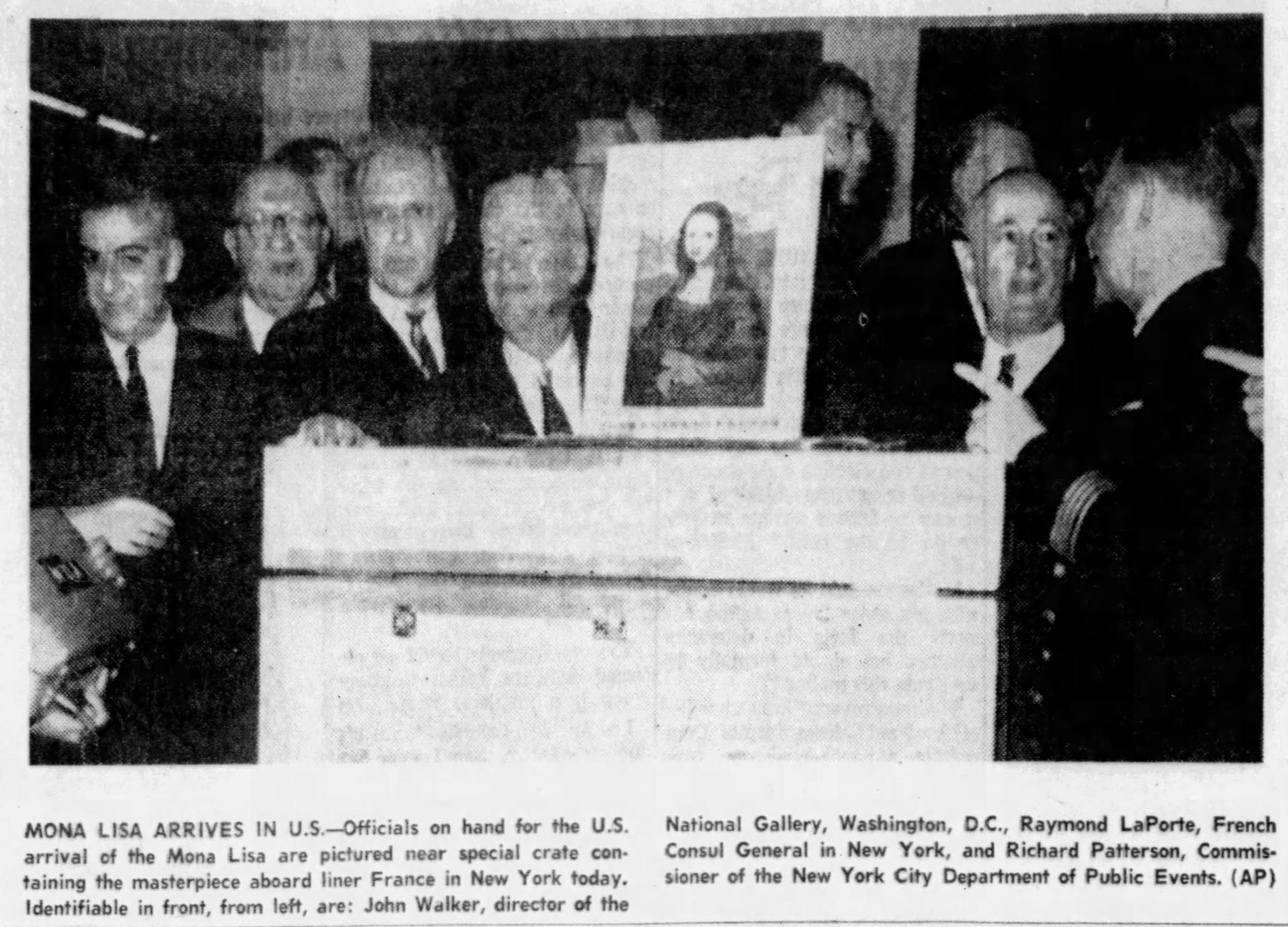 In 1963, the Vatican agreed to send Michelangelo's La Pietà sculpture to the US for exhibition at the 1964/65 New York World's Fair. Again, an ocean liner was selected to transport a precious masterpiece-Italian Line's Cristoforo Columbo (1954). The massive sculpture was crated and lashed with steel wires to the liner's deck. The crate was reportedly equipped with hydrostatic releases that would quickly unlatch it from the deck for recovery in the event the liner (which was the sister ship to Andrea Doria) sank.
Like the Mona Lisa, La Pietà was a hit in the States. Everything went as planned, and the sculpture was returned to the Vatican undamaged after the fair closed. Happily, the $6 million insurance policy that was taken out to protect the masterpiece did not have to be cashed.


Please help keep Ocean Liners Magazine afloat. Any amount will be greatly appreciated.
—Regards, John Edwards, Editor/Publisher.