On 6 November 1942, Ellerman Lines' City of Cairo, en route from Cape Town to Pernambuco, Brazil, was torpedoed and sunk by a U-boat 480 miles south of St. Helena.
As Capt. William A. Rogerson ordered, "Abandon ship," the liner's 101 passengers, including 28 women and 19 children, as well as 210 officers and crew, took to the lifeboats.
After the ship went down, U-68 surfaced and came close abeam of one of the lifeboats. Korvettenkapitän Karl-Friedrich Merten, U-68's commander appeared and asked what ship he had sunk. After learning the vessel's name, Merten gave the survivors the best course to steer for land. He then remarked, "Goodnight. Sorry for sinking you." He returned inside and U-68 sailed away.
After nearly 13 days adrift, three of the lifeboats—carrying City of Cairo's captain and 154 survivors—were rescued by the British cargo ship Clan Alpine on the morning of 19 November. That evening, a lifeboat carrying 47 survivors was rescued by the British cargo steamer Bendoran.
Another three survivors were picked up by a German merchant ship on 12 December 1942. On 27 December, 51 days after the attack, only two survivors—City of Cairo's third officer and a female passenger—remained alive when their lifeboat was picked up by a Brazilian Navy vessel.
Out of the 311 people on board City of Cairo, 104 died, including 79 crew members.
A salvage expedition to the City of Cairo wreck, completed in September 2013, recovered several tons of tons of silver coins from a depth of 5,150 meters (16,896 feet)—a world depth record. The salvers left behind this plaque.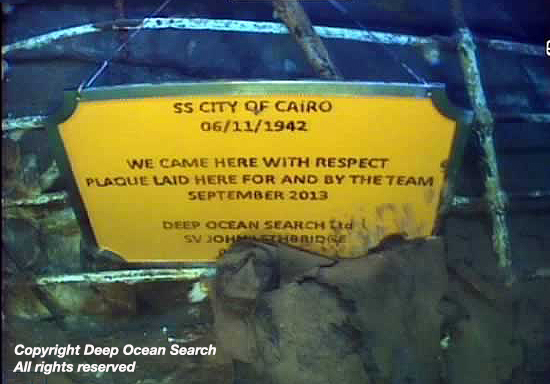 Please help keep Ocean Liners Magazine afloat. Any amount will be greatly appreciated.
—Regards, John Edwards, Editor/Publisher.