When White Star Line launched Cymric on 12 October 1897, few people paid attention.
Originally envisioned as a combination first-class passenger liner and livestock carrier, the vessel was redesigned when it was realized that combining top-paying passengers with cattle wasn't a particularly brilliant marketing strategy (although, on some of today's cruise ships…). As a result, the liner's designers were ordered to quickly reconfigure the livestock space into third-class accommodations. Problem solved!
While not a glamorous liner, Cymric—her name (pronounced "kimric") means "Welsh"—served White Star Line's main Liverpool-New York route until 1903 when she was downgraded to the less prestigious Liverpool-Boston route. She sailed this route for nine years before returning to her original route in 1912.
On 8 May 1916, while serving as a troop transport during World War I, Cymric was torpedoed three times by U-20, the same German U-boat commanded by the same captain—Walther Schweiger—that had sunk Cunard Line's Lusitania a year earlier. Cymric sank the following day 140 miles northwest of Fastnet. There were five fatalities. Her wreckage has yet to be discovered.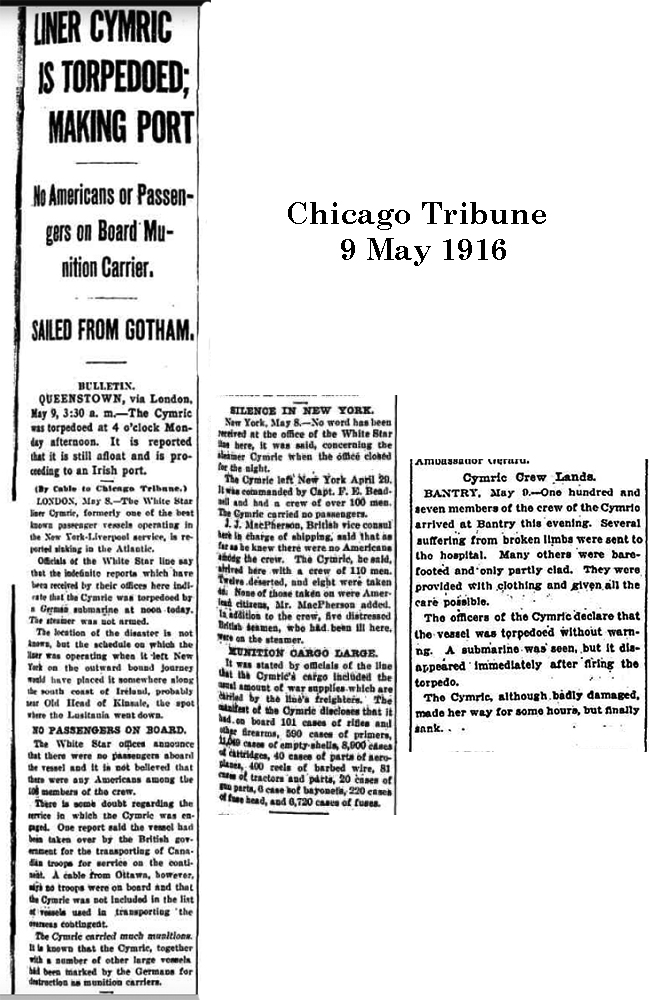 Please help keep Ocean Liners Magazine afloat. Any amount will be greatly appreciated.
—Regards, John Edwards, Editor/Publisher.
Click here to see dozens of more stories about ocean liners in wartime.