On 9 October 1942 Oronsay (1925), sailing near Liberia en route from Cape Town to Britain, was torpedoed by the Italian submarine Archimede.
The former Orient Steam Navigation Company liner, commanded by Capt. Norman Savage, was carrying 50 RAF personnel, 20 rescued British seamen and eight merchant gunners, as well as a cargo of 1,200 tons of copper and 3,000 tons of oranges. As the boats were being lowered a second torpedo struck, killing five on board one lifeboat. A total of six crew members were lost, as well as Oronsay herself.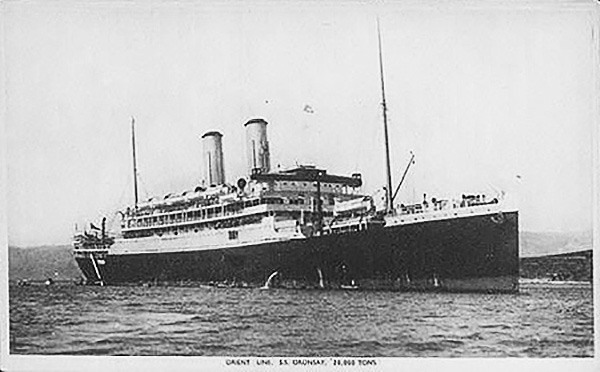 After 12 harrowing days at sea, 321 survivors were rescued by HMS Brilliant. Another 26 survivors were picked up by the Vichy French vessel Dumont d'Urville and were interned at Dakar. Coincidentally Dumont d'Urville, just a month earlier, participated in the rescue effort for survivors from Laconia (1921), the former Cunard liner sunk by a German U-boat on 12 September 1942.
Here's another coincidence. On 17 June 1940, Oransay helped save Lancastria survivors when that ex-Cunard liner was destroyed by German aircraft in the French port of St. Nazaire. Capt. Savage, who suffered a broken leg during the attack, was named a Commander of the Order of the British Empire (CBE) for his rescue efforts, which included steering his heavily damaged ship home with the aid of a pocket compass, a sextant and a sketched map.
Please help keep Ocean Liners Magazine afloat. Any amount will be greatly appreciated.
—Regards, John Edwards, Editor/Publisher.