On 2 October 1942 an eastbound Queen Mary, carrying nearly 20,000 American troops of the 29th Infantry Division to join the Allied forces in Europe, collided with and sank the British light cruiser Curacoa.
Both ships were following evasive, anti-U-boat zigzagging courses, approximately 60 kilometers (37 miles) north of Ireland, when Queen Mary cut across Curacoa's path with insufficient clearance, striking her amidships at a speed of 28 knots and slicing her in two.
Curacoa sank within six minutes with a loss of 338 men out of a crew of 439. Queen Mary, under orders not to stop under any circumstances, continued on to Scotland where she was outfitted with a temporary concrete plug. Hours later, the convoy's lead escort returned to rescue 99 Curacoa survivors.
The incident was not reported publicly until after the war ended. Soon after newspaper stories about the collision began appearing, the Royal Navy pressed charges against Queen Mary's owner, Cunard-White Star Line. The High Court of Justice subsequently ruled primarily in favor of the latter, assigning two-thirds of the blame to the Admiralty and one third to Cunard-White Star. Survivors' families also sued Cunard-White Star.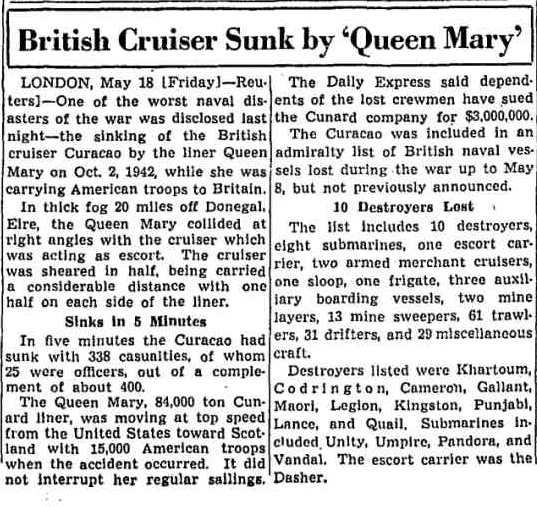 Please help keep Ocean Liners Magazine online. Any amount will be greatly appreciated.
—Regards, John Edwards, Editor/Publisher.