It was a "Battle of the Ocean Liners" on 14 September 1914 when the Battle of Trindade was fought.
Serving as an armed merchant cruiser during the first weeks of World War I, Cunard Line's Carmania (1905) met Hamburg South America Line's Cap Tafalgar, also converted into an armed cruiser, off the coast of the Brazilian island of Trindade. The encounter was unique in that it marked the only time in history that two ocean liners faced off against each other in a sea battle.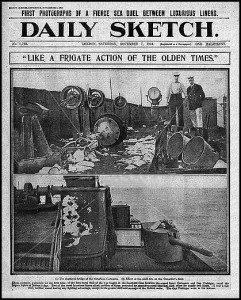 On that Monday morning, Cap Traflgar arrived at a secret German base on Trindade to resupply. Carmania, which happened to be passing by the island, noticed smoke on the horizon and moved in to investigate.
Carmania steamed into Trindade's only sheltered anchorage, surprising Cap Trafalgar and two German colliers. Realizing that an engagement was inevitable, both captains decided to take their vessels out to open sea where there would be room to maneuver.
For approximately 90 minutes the two liners engaged in a gunnery duel. Machine guns were also used by both sides to target opposing vessel crewmembers.
Carmania's bridge was destroyed in the battle, yet the liner survived (despite taking 73 direct hits, including two below the waterline). Cap Tafalgar was far less fortunate—she sank. The liner had only entered service the previous April.
The colliers were able to rescue 279 German sailors from the sea and life rafts. Somewhere between 16 and 51 Cap Tafalgar crewmembers perished, either during the battle or in the sea afterward. Carmania's toll was nine dead and several wounded.
Carmania finished out the war in Admiralty service and, after returning to civilian service, was eventually scrapped in 1932.

Click here to see dozens of more stories about ocean liners in wartime.
Did you like this article? When you buy anything through the link below, Amazon will contribute a small amount to Oceanliners Magazine at no extra cost to you.
Shop Now