The British liner Athenia was torpedoed and sunk on 3 September 1939, the first liner casualty of World War II.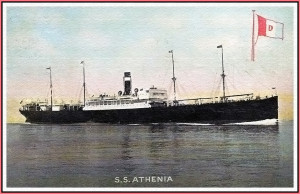 Two days earlier, German troops had crossed the border into Poland. Notes of protest were followed by ultimatums from both Britain and France. With no response from Germany within the allotted time, by noon on 3 September Britain was at war.
The first casualties at sea came that evening. The 13,580-GRT Donaldson liner Athenia was bound from Liverpool to Montreal with 1,103 passengers on board, mostly people hoping to escape the hostilities. About 200 miles west of the Hebrides, Athenia was torpedoed without warning. The action was in violation of international agreements specifying that unarmed passenger vessels were not to be harmed.
Athenia's captain might have inadvertently made his vessel more vulnerable to attack by running the liner darkened on a northerly route rarely taken transatlantic liners and zigzagging at high speed as if she were a combatant vessel. These unusual actions led the U-boat's captain to believe that Athenia might actually be an armed merchant cruiser. The first torpedo struck Athenia squarely, stopping her dead. The second malfunctioned and ran wild. The U-boat then left the scene without offering any assistance or even reporting the attack back to Command HQ, which later learned about the incident from a BBC news broadcast.
There were 118 deaths. Most were caused by the Norwegian rescue ship Knut Nelson, which shredded a lifeboat with her propellers during the recovery effort.
The German government initially denied any role in the attack, a response that may have actually been somewhat sincere, since the Germans did not learn the details of the event until the submarine had returned to base.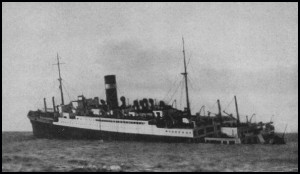 Predictably, Berlin reacted to the attack by launching a propaganda campaign that blamed the sinking on Britain. The Nazis accused London of intentionally sinking Athenia in a plot to discredit Germany and encourage the United States to join the war. Behind the scenes, however, Hitler was furious that a U boat captain would act so recklessly, imperiling his last hope of reaching a peace settlement with Britain. To prevent a repetition of the incident, Hitler placed new restrictions on U-boats. He ordered that passenger ships must not be attacked, even if they were escorted in a convoy.
The U boat captain went unpunished, most likely because Germany simply wanted to get the affair over with.

Click here to see dozens of more stories about ocean liners in wartime.
Did you like this article? When you buy anything through the link below, Amazon will contribute a small amount to Oceanliners Magazine at no extra cost to you.
Shop Now