The Atlantic rampage of the former Norddeutscher Lloyd liner Kaiser Wilhelm der Grosse ended suddenly on 26 August 1914 when she encountered the Royal Navy cruiser HMS Highflyer.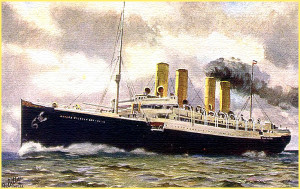 As World War I began, Kaiser Wilhelm der Grosse was requisitioned by the German Imperial Navy and speedily converted into an armed cruiser, painted gray and black. Within days, the ex-liner, commanded by Capt. Max Reymann, began patrolling the seas in search of enemy targets.
In almost no time, Kaiser Wilhelm der Gross used her cannons to sink three ships, Tubal Cain, Kaipara and Nyanza (but only after first ensuring that the occupants were safely transferred to the attacking vessel).
Shortly thereafter, Kaiser Wilhelm der Grosse encountered two passenger liners: Galician (Union Castle Line) and Arlanza (Royal Mail Lines). In a remarkable act of gallantry Reymann decided to let the ships continue on their way after discovering that there were many women and children on board.
Nearing the African west coast, Kaiser Wilhelm der Grosse stopped at Río de Oro, Spanish Sahara, to refill her nearly depleted coal bunkers. As the bunkering proceeded, HMS Highflyer suddenly appeared. A sea duel— the Battle of Río de Oro—ensued.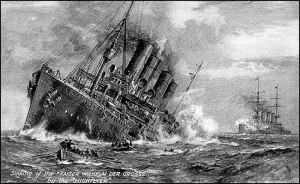 For over 35 minutes, the two ships bombarded each other. Yet Kaiser Wilhelm der Grosse was outgunned. Out of ammunition and his ship seriously damaged, Reymann faced the choice of turning his vessel over to the enemy captain or scuttling her with dynamite charges. He chose the latter (although the British later claimed that the German ship really sank from damage inflicted during the battle). In any event, the former Blue Riband holder and world's first four-funnel ocean liner, soon capsized and sank.
Reymann managed to swim to shore. He eventually returned to Germany by working as a stoker on a neutral nation ship. Most of Kaiser Wilhelm der Grosse's crew were taken prisoner, confined to the Amherst Internment Camp in Nova Scotia for the war's duration.
Did you like this article? When you buy anything through the link below, Amazon will contribute a small amount to Oceanliners Magazine at no extra cost to you.
Shop Now
Click here to see dozens of more stories about ocean liners in wartime.