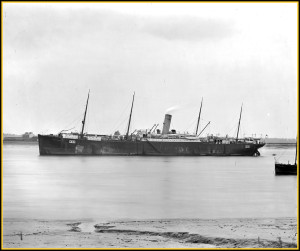 As Canadian Pacific Line's Montrose (1897) arrived at Pointe-au-Père (Father Point), Quebec, on 31 July 1910, Inspector Walter Dew of Scotland Yard boarded the liner with the pilot to take Dr. Hawley Crippen and his companion, Ethel LeNeve, into custody as suspects in the murder of Crippen's wife.
Crippen was the first criminal to be caught via wireless telegraph. He had boarded Montrose on 20 July to escape the manhunt underway for him in England.
A homeopath, Crippen was accused of poisoning and dismembering his wife, a showgirl named Cora (a.k.a. Belle Elmore), then stuffing her body in the basement. Crippen and Le Neve, his mistress, attempted to reach Canada disguised as a father and his son. It was a cunning plan that didn't quite work out.
Henry George Kendall, Montrose's captain, noticed that the oddly attired duo he saw on deck looked strangely similar to the "wanted" photos of the infamous couple he had seen in a newspaper. He used the ship's wireless station to inform authorities back in England that the suspects were likely on his ship. Scotland Yard investigators then rushed to a faster liner—White Star Line's Laurentic (1908)—to beat the pair to North America.
Crippen and his paramour were arrested on 31 July, just as they were about to disembark in Quebec. Both were tried in London. A jury found Crippen guilty after just 27 minutes of deliberation. He was hanged the following month. Le Neve was acquitted.
In 2007, Michigan State University scientists set out to prove that Crippen didn't kill his wife—and succeeded. Using forensic evidence, they showed that the body shared no DNA with Cora Crippen. Actually, the body wasn't even female. Was Crippen set up by his wife or someone else? Nobody knows.
Footnote: Less than four years later Capt. Henry George Kendall, while in command of another Canadian Pacific liner, Empress of Ireland, found himself in the headlines once again. Kendall survived the disaster; he died in an English nursing home in November 1965 at the age of 91.
Did you like this article? When you buy anything through the link below, Amazon will contribute a small amount to Ocean Liners Magazine at no extra cost to you.
Shop Now