On 24 July 1913 Ceramic departed Liverpool on her maiden voyage. For most of the next three decades she sailed an England-Australia route, first for White Star Line and then for Shaw, Savill & Albion Line. The 18,495 GRT Ceramic was 655 feet long and 69 feet at beam.
Ceramic served as a troopship in World War I, then returned to civilian service. At the outbreak of World War II, she again became a troopship. Then, in an unusual move, she was retuned to civilian service at the height of the war.
It was in this role, on the night of 6 December 1942, that Ceramic met her dreadful end while carrying 244 passengers, mostly military or naval personnel, but also 133 fare-paying civilians, including 12 children. While in the Atlantic west of the Azores and bound from Liverpool to Australia via St. Helena and South Africa, Ceramic was struck by three torpedoes fired by U-515.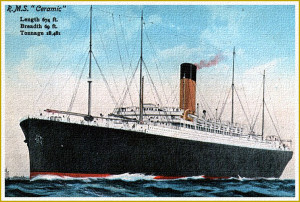 The aged liner was crippled, but remained afloat. Her lifeboats were lowered and launched. Approximately three hours later, U-515 fired two more torpedoes to finish off Ceramic as the liner's passengers and crew watched helplessly from their lifeboats.
Due to wartime censorship, Ceramic's disappearance was hardly noticed. The Admiralty, unaware of any distress call from Ceramic, simply assumed that the liner had been sunk and that all 500 people on board, including women and children, were lost.
The real story was even worse. A major storm hit the attack site and Ceramic's lifeboats began capsizing. Then U-515 returned. Commander Werner Henke was looking for Ceramic's captain, who he felt might be forced to provide valuable intelligence. Unable to locate the captain, Henke retrieved a single survivor, Sapper Eric Munday of the Royal Engineers. Then after spotting someone in one of the overloaded lifeboats waving at him, Henke—feeling that he was being mocked—ordered U-515, with Munday on board, to return to its patrol. The poor souls in the lifeboats were left to fend for themselves.
Henke was later captured and accused of machine-gunning survivors in the water. That probably didn't happen. Most likely, the lifeboat occupants simply drowned in the rough seas. Munday spent the rest of the war in a German POW camp. He was Ceramic's only survivor.
Henke was shot and killed while attempting to escape from an interrogation center at Ft. Hunt, Virginia, on 15 June 1944. Some reports claim that Henke casually strode toward the center's fence in broad daylight and began climbing it. Guards ordered him to stop. When he failed to obey, he was shot dead. There's speculation that Henke committed suicide to avoid extradition to the UK and an eventual war crimes trial for the alleged shooting of Ceramic survivors. He is buried in the Soldiers Cemetery at Fort Meade, Maryland.
Did you like this article? When you buy anything through the link below, Amazon will contribute a small amount to Oceanliners Magazine at no extra cost to you.
Shop Now