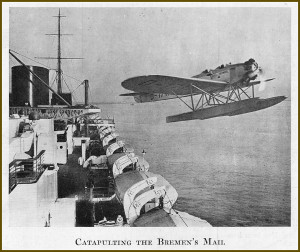 On 22 July 1929 Norddeutscher Lloyd's Bremen took the Blue Riband from Cunard Line's Mauretania, completing a westbound transatlantic crossing in 4 days, 17 hours and 42 minutes, at an average speed of 27.83 knots.
But wait… There's more…
Before arriving in New York harbor, while off the coast of Long Island, Bremen catapult-launched a Heinkel HE 12 floatplane. The aircraft carried 27-year-old Lufthansa pilot Baron Jobst von Studnitz and six bags packed with 11,000 pieces of mail. The mail arrived in New York several hours before Bremen docked at the NDL pier at the foot of 58th Street in Brooklyn (about four miles south of where Queen Mary 2 docks today).
In another aviation experiment the following year, a Goodyear blimp, Mayflower, landed on Bremen to take a passenger to shore (see the video above).
Did you like this article? When you buy anything through the link below, Amazon will contribute a small amount to Oceanliners Magazine at no extra cost to you.
Shop Now