On 22 June 1936, during a torpedo-dropping drill, an RAF plane flown by Lt. Guy Kennedy Horsey buzzed French Line's Normandie, anchored a mile off of the Isle of Wight's Ryde Pier. But Horsey didn't see a crane that was transferring a motor car belonging to Arthur Evans, MP, onto a tender moored alongside the ship.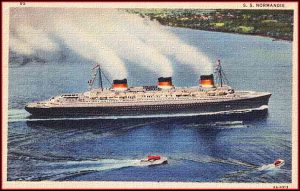 The torpedo bomber struck the crane, somersaulted and collapsed onto Normandie's bow. The aircraft was pretty much a wreck. The liner, however, was relatively undamaged. The pilot, fortunately, was unhurt. Contemporary news reports don't mention the fate of MP Evans' car.
The pilot returned to the mainland (by boat). The plane, however sailed with Normandie to Le Havre, and was returned to England a few days later when the liner made her next Southampton call.
Later that month, on 29 June, Normandie suffered another mishap. While trying to dock in New York at ebb tide, the liner was swung by the wind so close to the West 48th Street pier that her flying bridge struck a steel girder and was buckled back some 15 feet. Fortunately, there were no injuries.