Journey back to the days of weak industrial health and safety rules for an Aquitania abandon ship drill.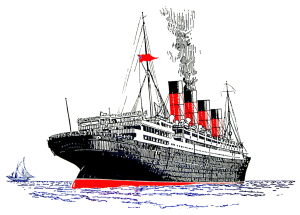 The title card at the start of this 1923 film reads: "Safety First Always! Abandon Ship practice on the mighty Cunarder 'Aquitania." And so we see Aquitania's port lifeboats simultaneously lowered (not always evenly) and launched, fully loaded with people. But who are these souls? Crew members? Passengers? Volunteers plucked off of Southampton streets? The "survivors," nearly all men, appear to be wearing street clothes.
At the 2:45 mark, a real emergency nearly occurs when a motor launch almost rams one of the lifeboats.
Things are somewhat different today.