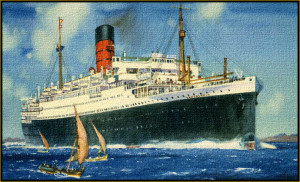 The Lancastria disaster, the greatest catastrophe in British maritime or naval history, occurred on 17 June 1940. Yet for a significant length of time few people outside of those directly involved in the incident knew anything about it.
Launched in 1920 by Cunard subsidiary Anchor Line with the tongue-twisting name Tyrrhenia, the ship that was soon renamed Lancastria would lead a totally uneventful life until her final, tragic day.
After her transfer to Cunard, Tyrrhenia assumed her new name and was assigned to the prime Liverpool-New York route. Beginning in 1932, with the Great Depression sending transatlantic passenger traffic to new lows, Lancastria, like many liners of her size and age, was shifted to cruising.
In 1940 Lancastria was converted into a transport and assigned to evacuate troops from Norway. Later that year, two weeks after Dunkirk, as Lancastria was evacuating British nationals and troops from France, she was attacked near St. Nazaire by German aircraft. Lancastria was hit at least three times, exploded and sank in under 20 minutes. The casualty toll was horrendous: more than 4,000 dead.
Prime Minister Winston Churchill imposed an immediate news blackout on the event, fearing that reports would needlessly demoralize the public (although some American newspapers began publishing articles within weeks, hinting of the disaster).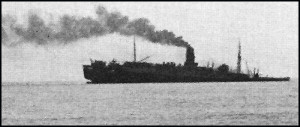 Lancastria's story still remains largely unknown. It's undeniable, though, that the event marked the worst single loss of life in British maritime or naval history. More were killed in the Lancastria disaster than in the Titanic and Lusitania disasters combined.
To this day, the British government refuses to designate the Lancastria wreck as a war grave. The official report on the disaster is scheduled to remain sealed until 2040, despite numerous freedom of information requests for document access. Some historians suspect a cover-up, believing that the Admiralty directly ordered Lancastria's captain to grossly exceed the vessel's legal limits. By 2040 everyone involved in the incident, including close relatives of the dead, will be long dead.
Click here to see dozens of more stories about ocean liners in wartime.