Humboldt was a Pacific Coast steamer measuring only 213 feet long and 688 net tons, but you could say she had a lot of spirit.
Launched in 1897 as a lumber carrier, Humboldt was quickly converted into a passenger vessel that same year to accommodate a rising tide of prospectors headed to Alaska during the gold rush.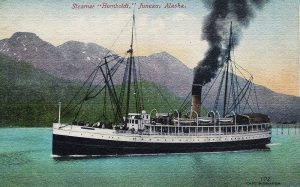 Elijah G. Baughman was Humboldt's pilot on her first voyage to Skagway, Alaska. He became the ship's master in 1900 and continued at that post for the remainder of his career. By 1915, Humboldt had completed 500 voyages to Alaska.
Other than a serious scrap with a fog-shrouded reef near Victoria, British Columbia, in 1908, Humboldt served reliably and uneventfully for many decades.
An aging Humboldt was finally retired from service in 1933 and relegated to a San Diego, California, boneyard. By this time Capt. Baughman was retired, too. Moored in San Francisco, he was living a quiet and wistful life, hoping one day to return to sea.
To continue, click the NEXT button on the top of this page.