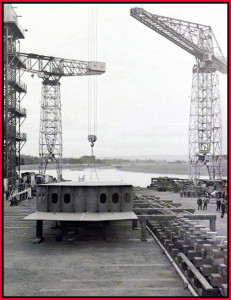 The keel laying ceremony for the ocean liner that would become Queen Elizabeth 2 took place on 5 July 1965 at John Brown & Co., Clydebank. The keel was laid on the same slipway used for Queen Mary's construction.
The silent video above shows engineers testing a model of QE2's hull in a water tank, followed by (at the 3:15 mark) footage from the keel laying ceremony.
Like Queen Mary, the new ship did not receive a name until the day of her launch, 20 September 1967. Until then, she was simply known as "Hull 736."
To continue, click the NEXT button on the top of this page.