On 12 August 1974, Caribia, the liner formerly known as Caronia (1948), was fatally wrecked outside of Apra, Guam.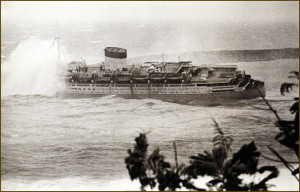 The ex-Green Goddess, long neglected and abused, was being towed by an ocean tug from New York to a Taiwan scrapyard. Encountering a typhoon that threatened to sink both vessels, shelter was sought at Guam. The result was disastrous.
While entering the harbor, high winds and a rising tide pushed Caribia onto the breakwater. Sitting helpless, she was lashed by the storm. The ceaseless buffeting caused Caribia to split into three pieces and partially sink.
Salvage teams quickly broke up the liner, which was blocking the harbor's entrance. The process was complicated by the fact that part of the wreck had landed on top of a Korean War-era landing craft still packed with munitions. The ammo had to be carefully removed before Caribia could be cut up. It was an ignoble and very undeserved ending for a much-loved vessel.
For many years, a New York restaurant called 1/5 was decorated with fixtures and fittings used in Caronia's first class dinning room, salvaged from the Caribia wreck.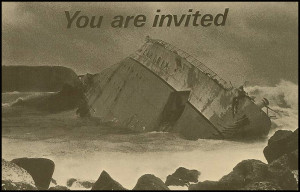 Was there ever a better cruise ship than Caronia? Her service life was an astonishingly short 19 years.

Did you like this article? When you buy anything through the link below, Amazon will contribute a small amount to Ocean Liners Magazine at no extra cost to you.
Shop Now