Home Lines' Oceanic (1965) was launched on 15 January 1963 at Italy's Cantieri Riuniti dell' Adriatico shipyard. When shipfans talk about "the greatest cruise ship ever," it's rare not to hear the name Oceanic mentioned.
Not to be confused with White Star Line's Oceanic (1871) or Oceanic (1899), Oceanic (1965) was designed to operate as a state-of-the-art, two-class transatlantic liner. But with the liner market rapidly succumbing to airline competitors in the mid-1960s, Oceanic was sent directly into cruising.
Flagship of the Home Lines fleet, the 39,241-GRT Oceanic was 782 feet long with a 96.5-foot beam. Passenger capacity was 1,600. She had a rated service speed of 26.5 knots and a maximum speed of 27.25 knots (not that either really matter very much during cruise service). Oceanic typically spent winter months cruising Caribbean ports and followed a New York-Nassau-New York and New York-Nassau-Freeport-New York route during the rest of the year. Oceanic was a popular holiday choice for many families in the New York area's large Italian-American community.
A Different World
Cruising was a far different experience in the 1960s and 70s than it is today. Oceanic had no casino and only a few onboard shops. The evening's entertainment was held in a nightclub-like lounge (the Aegean Room), not a shipboard theater. Little effort was made to upsell passengers on extra services and the food was Italian, delicious, and abundant. Trap shooting on the fantail was popular; Home Lines even supplied the guns and ammo (for a fee).
Oceanic passed through several owners after her Home Lines days ended 1965—including a period when she was marketed as "The Big Red Boat" and as "Starship Oceanic." She wound up her service life sailing for a Japanese organization as "Peace Boat."
The End
A weary and aging Oceanic was scrapped in 2012. Think of what you missed.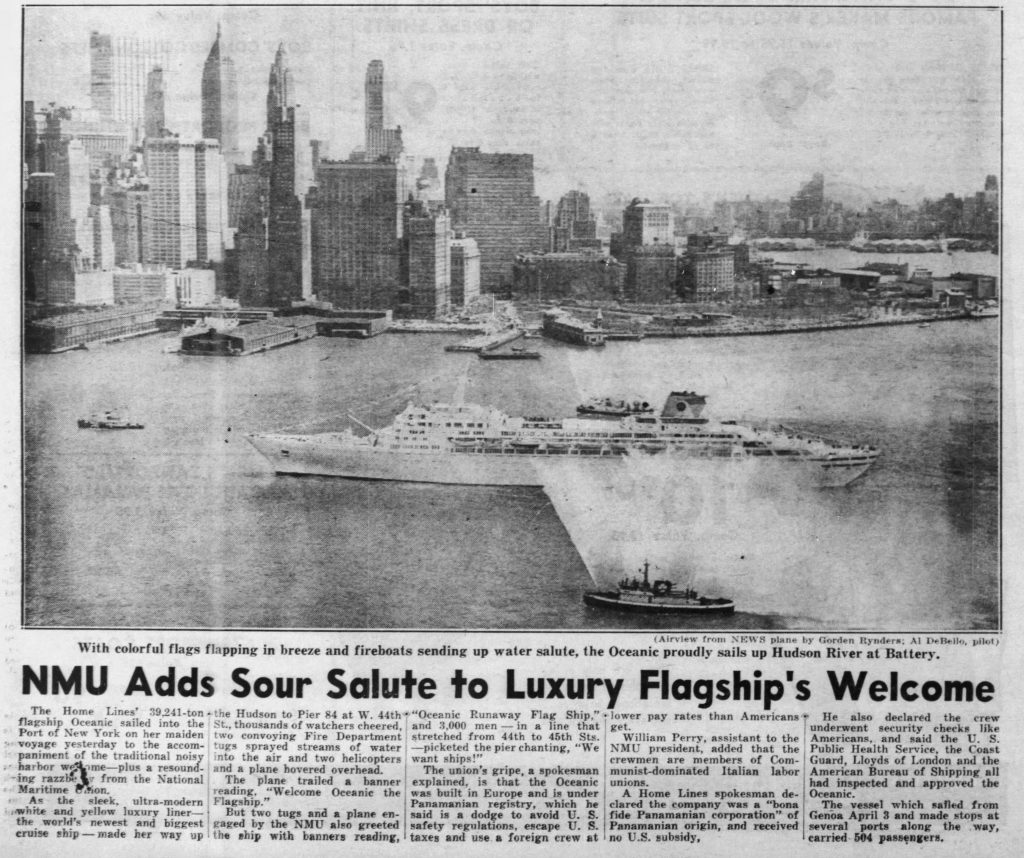 Please help keep Ocean Liners Magazine afloat. Any amount will be greatly appreciated. Think of it like tipping your history steward.
—Regards, John Edwards, Editor/Publisher.