Italian Line's Raffaello departed on her maiden voyage on 10 July 1965.
Raffaello, along with her almost identical twin—Michelangelo—was the final transatlantic liner to sail for Italia di Navigazione (Italian Line).
Below are my personal recollections of sailing on Raffaello, based on an August 1971 Caribbean cruise I took with my family when I was a mere lad of 16.
—It was a nine-day New York-New York voyage with calls in St. Thomas (tenders), St. Maarten (tenders) and Curaçao (docked at a Shell refinery).
—Due to the combination of a delayed New York departure and a tropical storm bearing down on our course, Raffaello had to really race to her first port. This led to a huge vibration problem that could be best felt in one of the liner's aft lounges (I forget which one). In any case, my brother and I dubbed the room "The Vibration Lounge," which in 1971 actually sounded like a great name for a nightclub.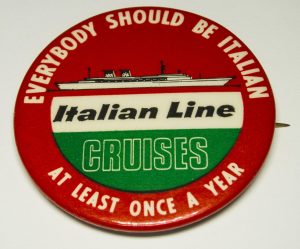 —Before departure, my parents hosted a little Bon Voyage party in a corner of one of Raffaello's public rooms. What a great memory. It's sad that we've lost this wonderful tradition due to all security mania. After all, the world was a dangerous place in 1971, too. My father was a British soldier in World War II. My mother survived scores of air raids in Hamburg during the war. I think both of them would be dismayed to see how people today are too afraid to fully enjoy life.
—As we left New York, a small private boat approached Raffaello's stern and was nearly pulled into the liner's massive hull. Somewhere, I have an 8mm film of the little boat's owner frantically reverse-revving his way out of the situation.
—It was on this voyage that I learned (the hard way) not to drink the water from the bathroom sink's tap.
—People dressed much more formally in those days, but that was true of life in general in 1971.
—There was trap shooting on the aft deck! With real guns!
—My overall impression was that Raffaello was very much like an expensive Italian sports car: gorgeous, but not all that practical. In any event, the liner was a terrible cruise ship. The air conditioning hardly worked, the class-oriented design made moving around the vessel a confusing and time-consuming trek and the crew wasn't exactly an enthusiastic bunch. In fact, I felt that my cruise the previous year on Home Lines' Oceanic (which also had an Italian crew) was far superior in almost every respect—even the food.
—Still, despite her many shortcomings, I wish I could take another cruise on Raffaello. That will never happen, though. She was sold to the Iranian government in 1977 for use as a troop accommodation ship. She was sunk in February 1983 by an Iraqi missile during the Iran-Iraq war.