In this 1932 newsreel, Empress of Britain (1931) washes up in Southampton (as in "undergoes a cleaning" not "floats lifelessly ashore").
Narrator: "There she is, the latest and loveliest triumph of British shipbuilding. A powerful link in the Empire chain."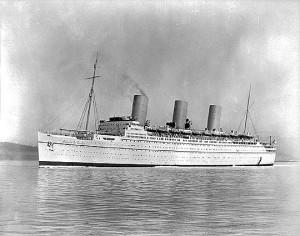 You will want to  watch this newsreel for the beautifully filmed views of the John Brown & Co.-built Empress of Britain, pride of the Canadian Pacific fleet. As the narrator states, "from every angle the impression is one of power and beauty."
Sadly, Empress of Britain's days were numbered, even as this newsreel was being filmed. She sank on 28 October 1940 off the northwest coast of Ireland after being attacked by a German bomber and a U-boat two days earlier. Fortunately, casualties were relatively light. Most of the troops she was carrying were picked up by escort ships.
To continue, click the NEXT button on the top of this page.