It was down to the wire again for America's fabled flagship, the SS United States, but an eleventh-hour donation has given the vessel another short reprieve. A $150,000 contribution to the SS United States Conservancy's "We are the United States" campaign on the eve of its conclusion, has prompted a decision to extend the national fundraising and outreach effort to save the iconic vessel.
The Conservancy, a national nonprofit organization, was just days away from deciding the fate of the world's fastest ocean liner and only ship to bear the nation's name. The donation by cruise industry executive Jim Pollin will extend the grassroots fundraising campaign through mid-September. Many others, such as those looking to fund other worthy endeavors like veteran help and rehabilitation, have used the platform successfully (see here for some examples), and so the power it has is well proven by now.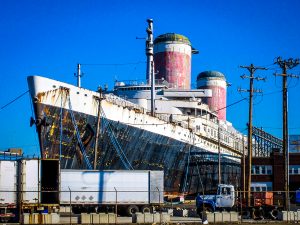 The Conservancy had set a goal of raising $500,000 to keep the ship afloat back in May. To date, the "We are the United States" campaign has raised nearly $200,000. The organization's board of directors was scheduled to vote this week on whether to recycle or reef the historic ship.
"This donation gives us more time to raise additional resources for the ship's expenses as we continue to negotiate with prospective developers and secure a permanent location for the vessel," stated the Conservancy's executive director, Susan Gibbs. "Jim Pollin's passion for the SS United States is inspiring and extraordinary. He is a hero to all those who care about saving our nation's heritage."
To continue, click the NEXT button on the top of this page.