The Conservancy, which saved the ship from certain destruction in 2011, is actively courting developers and investors to revitalize the vessel as a stationary, mixed-use, landmark destination. The organization is in a race against time to raise the funds to cover the ship's ongoing monthly carrying costs at its current pier in Philadelphia. The Conservancy is also committed to the long-term effort of locating, preserving and showcasing thousands of original artifacts, as well as archival documentation, from America's Flagship.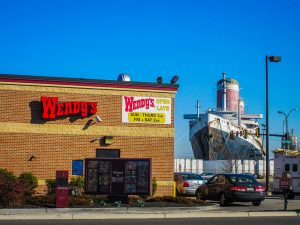 "There is no doubt in my mind that if the Conservancy can continue to keep the United States afloat that a viable option for her future will be presented," said Pollin. "So much of who we are as a country is represented by this great ship. Americans need to step up now to help save her. The United States is as much a part of our nation as the ground on which we live and work. We cannot allow her to be destroyed. It would be a terrible loss for the nation."
Pollin is the son of the late Abe Pollin who, together with his wife Irene, owned the Washington Capitals and Wizards professional sports teams. The Pollins were also central figures in the revitalization of downtown Washington D.C. and supported a range of philanthropic causes.
To continue, click the NEXT button on the top of this page.