ReplicaBuildings is a US-based company that has created over 800 unique replica models of skyscrapers, churches, houses, department stores, landmarks, monuments, government buildings, office buildings, residential towers, schools, college buildings, factories, world's fair pavilions, skylines, train stations, towers, high-rise buildings, bridges and banks. Some of the many architectural styles the firm has covered include Egyptian, Classical, Gothic, Colonial, Jeffersonian, Victorian, Beau Arts, Chicago School, Art Nouveau, Prairie Style, Art Deco, Streamline Modern, Futurist, Expressionist, Bauhaus, International, Postmodern and Green.
The company is now offering its first maritime-oriented replica: a miniature version of Queen Elizabeth's 2 funnel. The cast-metal model, which costs $100, is highly detailed and available in several different finishes. Funnel base measures 5 inches by 2 inches and the overall model at stands 2-11/16 inches.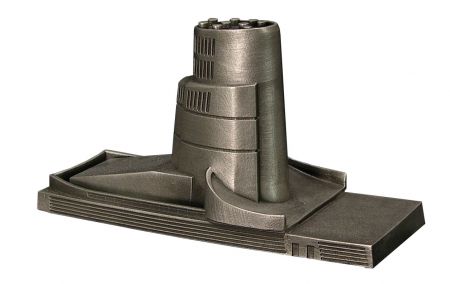 The model replicates QE2's current funnel. Perhaps, at some point in the future, the company could be persuaded to offer a replica based on the liner's innovative original funnel.
Note: This article is not an advertisement. Oceanliners Magazine has no commercial connection to the model maker and cannot vouch for the model's accuracy or quality.