All aboard Smithsonian Channel this August, as the network sets sail on an epic journey to chronicle the spectacular life and times of the singular vessel RMS. Queen Mary, as both a luxury passenger liner and a wartime troop ship. "Mighty Ship At War: The Queen Mary," a new one-hour special timed to celebrate the 80th anniversary of the famed ocean liner's maiden voyage, will premiere Sunday, August 21 at 8 p.m. ET/PT on Smithsonian Channel.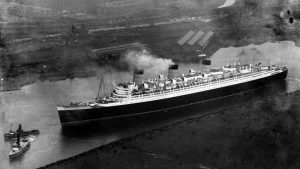 Bigger and more powerful than the Titanic, and faster than any other ship in her class, the Queen Mary is the last survivor of the golden age of ocean liners. Built by master craftsmen in Scotland shipyards, she helped drag a nation from the depths of The Great Depression and set sail as a symbol of new hope and a better future. She played a critical role during World War II, ferrying troops and Winston Churchill across the Atlantic. Then, after nearly 4 million miles sailed in 31 years at sea, The Queen Mary retired to Long Beach, California, where she's drawn over 50 million visitors since 1970.
With exclusive access to the magnificent liner and extensive archival footage and photographs, "Mighty Ship At War: The Queen Mary" will explore the action-packed life of the ship and take viewers through some of the most dynamic periods of the 20th Century. The ocean liner set a new benchmark in transatlantic travel, transporting movie stars, politicians, and royalty luxuriously across the North Atlantic for over three decades, between 1936 and 1967.
To continue, click the NEXT button on the top of this page.