In 1939, the ship was transformed into the largest and fastest troopship, ferrying Allied soldiers during World War II through enemy infested seas. The Queen Mary helped make D-Day possible and by the end of the war had transported almost a million men across the Atlantic. Adolf Hitler offered a $250,000 reward for any U-boat captain that could sink her, but her size and speed made her unsinkable. The documentary also explores the ship's darkest day when, in October 1942, she accidentally collided with her escort vessel, the HMS Curacoa, slicing it in two. Ordered not to stop under any circumstances, the captain of the Queen Mary had no choice but to continue, leaving 338 men to drown.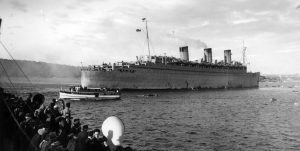 The one-hour special gives unique insight into life on the ship, featuring interviews with historians and experts, including a tour by Queen Mary's Honorary Captain Everette Horde. It also includes firsthand accounts by passengers who walked her decks, such as Heather Beagley, who was lucky enough to sail on the iconic maiden passage, and singer Johnny Mathis, who performed on the rough seas of the Atlantic. Viewers will also hear from U.S. Army troops who crossed the Atlantic to fight, revealing what the liner was like during wartime, and two "G.I. Brides" who boarded the Queen Mary post-war to join their American husbands in the States.
"Mighty Ship At War: The Queen Mary" is produced by STV Productions in for Smithsonian Channel and BBC Scotland. Matt Pinder is the producer and director. Michael McAvoy serves as executive producer for STV Productions. David Royle and Charles Poe serve as executive producers for Smithsonian Channel.
To continue, click the NEXT button on the top of this page.