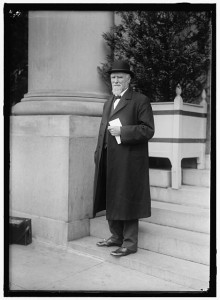 Dollar Line sank in 1938 after (ironically) running out of money.
Robert Dollar, founder of the Dollar Steamship Company—Dollar Line—was born in Falkirk, Scotland on 20 March 1844. Dollar worked hard, and intelligently, to become a maritime industry giant, targeting the Pacific Ocean market rather than the overcrowded Atlantic. At its height in the 1920s, Dollar Line was the largest and most profitable US shipping firm. The company's unique white dollar sign logo could be seen on red-banded funnels around the world. Dollar ocean liners included President Hoover (1930) and President Coolidge (1931).
By the time of his death in San Rafael, California, on 16 May 1932 at age 88, Dollar—a poor Scottish immigrant (first to Canada, then to the US)—had amassed a $40 million fortune as well as the nickname "The Grand Old Man of the Pacific." Yet, thanks largely to the Great Depression, Dollar's empire would soon collapse under heavy debt. In June 1938, President Coolidge was "arrested" in San Francisco for an unpaid debt. Time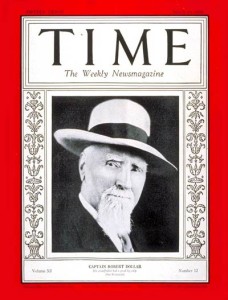 Magazine accurately predicted that same year that the sinking shipping line, "signed away by its crew of heirs, assignees, and moneylenders," and would soon be absorbed by the U. S. Maritime Commission. The Dollar days were over.
The company would be reborn as American President Lines (APL), which continued and expanded Dollar Line's ocean liner service in the Pacific. APL, which shed its passenger operations several decades ago, eventually became the world's seventh-largest container transportation and shipping company. In 2016, the company was acquired by CMA CGM Group and, in 2020, renamed CMS CGM Asia Shipping.
"Robert Dollar has done more in his lifetime to spread the American flag on the high seas than any man in this country." — California Governor James Rolph, Jr., at the time of Dollar's death.

Please help keep Ocean Liners Magazine afloat. Any amount will be greatly appreciated. Think of it like tipping your history steward.
—Regards, John Edwards, Editor/Publisher.