Harold Sydney Bride, Titanic's heroic junior wireless telegraph operator, was born on 11 January 1890
By steadfastly remaining at their keys, Bride and chief wireless operator Jack Phillips undoubtedly saved many lives on the morning of 15 April 1912. Phillips perished in the disaster. Bride managed to swim off Titanic during the liner's final moments and made his way to the upturned Collapsible "B" lifeboat.
Despite his ordeal, Bride was able to assist Harold Cottam, Carpathia's wireless operator, in transmitting survivor lists and other messages from the rescue ship to shore stations. Bride became so caught up in his work that he didn't realize they had arrived in New York until a Marconi representative came onboard and released him from his duties. The representative, Guglielmo Marconi, congratulated and thanked Bride for his heroic work. Shortly thereafter, Bride had to be carried off the Cunard liner due to injuries to his feet (one was badly crushed, the other frostbitten).

Bride received a hero's welcome when he returned home to Beckenham, England. One of his old teachers said it was the school's compulsory swimming classes that saved Bride's life.
In the first place, the public should not blame anybody because more wireless messages about the disaster to the Titanic did not reach shore from the Carpathia. I positively refused to send press dispatches because the bulk of personal messages with touching words of grief was so large. —Harold Bride, New York Times, 19 April 1912
Before Titanic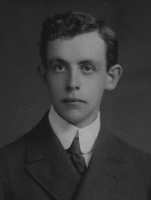 At age of 20, intrigued by wireless telegraphy, Bride annoyed neighbors by building a noisy spark transmitter and erecting a massive antenna in his father's garden. Shortly thereafter, he attended the Marconi training school in Liverpool, where he was awarded a certificate in wireless telegraphy in June 1911.
Bride joined the Marconi International Marine Communications Co. shortly after receiving his certificate. He served on several liners over the next few months, including Cunard Line's Lusitania, before agreeing to join Titanic.
Later Years
After the Titanic disaster, Bride worked as a telegrapher in a London post office. He returned to the sea in 1913 to serve as a wireless operator on P&O Line's Medina (1911). In 1914, Bride was assigned to a relay station on the Scottish coast, where his tasks included intercepting German navy and maritime messages.
Bride left Marconi in 1916. In 1918 and 1919 he served on HMS Mona's Isle, a net layer. His final job at sea was as a wireless operator on a cross-channel ferry, a post he held until 1922. Two years earlier, Bride had become a bridegroom, marrying Lucy Downie, a London teacher. The couple moved to Glasgow in 1922, where Bride became a salesman.
As the years passed by, Bride became increasingly reluctant to talk about the Titanic disaster and his role in the event. He preferred to focus on his family and other personal matters. Yet Bride never gave up his love for wireless experimentation. He was an active amateur radio enthusiast until the end of his life.
Harold Bride died of lung cancer on 29 April 1956.

Please help keep Ocean Liners Magazine afloat. Any amount will be greatly appreciated. Think of it like tipping your history steward.
—Regards, John Edwards, Editor/Publisher.