Journalist Elizabeth Jane Cochrane, traveling under the pseudonym Nellie Bly, boarded White Star Line's Oceanic (1871) on 7 January 1890 in Yokohama to cross the Pacific as part of her "Around the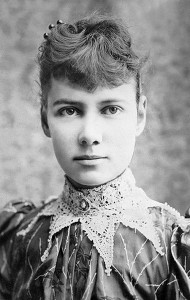 World in Seventy-two Days" journey. She arrived in San Francisco on 21 January 1890, a day behind schedule due to bad weather.
While onboard the Harland & Wolff-built Oceanic, Bly most likely enjoyed the liner's wide promenade decks, running water, electric bells (for summoning stewards), and other "modern" conveniences (Oceanic was sometimes described as "The Mother of Modern Liners.")
Most of Oceanic's crew liked Bly and wanted to help the enterprising writer complete her journey on time. Some of the men, however, despised Bly's pet monkey, McGinty, since he was something of a "biter." Worse yet, a number of crew members felt that McGinty was bad luck and wanted to throw him overboard. The kind-hearted Bly, however, protected McGinty from any harm.
Bly's trans-world journey was an attempt to break the fictional record of the equally fictional Phileas Fogg, title character of Jules Verne's 1873 novel "Around the World in Eighty Days." Given approval to try the feat by the New York World, Bly embarked on her journey from New York in November 1889, traveling first by liner, but later also via horse, rickshaw, sampan, burro. and other forms of transport.
Bly managed to complete her trip in 72 days, 6 hours, 11 minutes and 14 seconds—setting a real-world record. Bly earned international stardom for her months-long stunt, and her fame continued to grow after she safely returned home and her record-setting achievement was announced.
Bly later published a book about the experience: "Around the World in 72 Days" (1890).


Please help keep Ocean Liners Magazine afloat. Any amount will be greatly appreciated. Think of it like tipping your history steward.
—Regards, John Edwards, Editor/Publisher.