J. Bruce Ismay, the White Star Line managing director and Titanic survivor, was born on 12 December 1862.
Rightly or wrongly, Ismay was widely blamed for the Titanic disaster. Perhaps the very first victim of a media hate campaign, Ismay's reputation never recovered. While other survivors were relating their accounts in diaries, books, newspapers, and magazines, Ismay kept silent and never spoke of his beloved liner again.
Ismay was the eldest son in the family of nine children of Thomas Henry Ismay (1837–1899), White Star Line's founder. According to the Oxford Dictionary of National Biography (ODNB), "Ismay was tall and handsome, with a somewhat contradictory personality." He was also, at times, insistent and assertive, "as in his decision to destroy many of the firm's archives after the Titanic disaster." On the other hand, Ismay is also said to have shown much sympathy for life's underdogs, "secretly helping all sorts of people, but he intensely disliked publicity," according to the ODNB.
After years of declining health, J. Bruce Ismay died of a stroke, in London, on 17 October 1937 at the age of 74.
In 1992, 100 years after the Titanic disaster, some of Ismay's descendants spoke out in an effort to try to clear his name. Noted Malcolm Cheape, grandson of Ismay's eldest daughter, Margaret, "I think that he was treated really badly by the American press—and probably not quite so badly by the British press but his story was never really told—there were a lot of lies in the American press about him escaping on the first life boat and dressing up as a woman and things like that which must have deeply hurt him."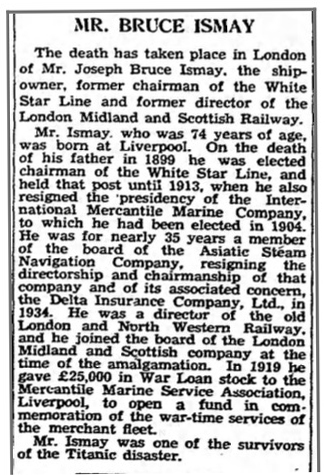 Please help keep Ocean Liners Magazine afloat. Any amount will be greatly appreciated.
—Regards, John Edwards, Editor/Publisher.