Sixty years ago, on 11 November 1960, Britannic (1929) left Liverpool on her final voyage to New York. The trip marked the last paid-passenger journey for any ocean liner built for the legendary White Star Line. Although now sailing for Cunard Line, Britannic was still resplendent in her White Star Line livery: buff funnels topped in black and a black hull accented by a gold band. She was still flying her White Star Line burgee, although since 1950 positioned below the Cunard house flag.
Britannic marked a milestone in ocean liner development by being the first British liner to use a diesel motor rather than one or more steam engines for propulsion. Britannic's diesel technology allowed the vessel to sport shorter, squatter funnels than a typical steamship, giving her a modern appearance that would soon be mimicked by many other liners.
In the years leading up to World War II, Britannic served as a Liverpool-New York transatlantic liner in the summer and as a Caribbean cruise ship in the winter. Britannic was a troopship during the war, carrying over 180,000 troops and traveling a total of 376,000 miles.
In 1948, Britannic resumed her Liverpool-New York service. She continued on this historic run until the very end.
Britannic's final departure from New York on 25 November 1960 did not go unnoticed. The aging liner was escorted from the harbor by a flotilla of fireboats and pleasure craft. Then, the last White Star liner—and what was left of White Star Line as shipping line—sailed into history.
On 16 December, Britannic left Liverpool under her own power for the shipbreakers, ending a story that began in 1845 with the formation of the "White Star Line of Boston Packets."
Yet White Star still survives in a way. Cunard currently promises its transatlantic and cruise passengers "White Star Service" while training its guest staff at "White Star Academy." Cunard describes the program as "a lasting legacy of our historical connection to the White Star Line and honours the golden era of these elegant and luxurious vessels."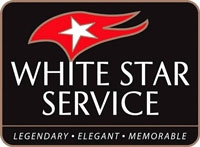 Please help keep Ocean Liners Magazine afloat. Any amount will be greatly appreciated.
—Regards, John Edwards, Editor/Publisher.