Beginning his long association with Cunard Line vessels, Winston Churchill, 20, arrived in New York onboard Etruria on 9 November 1895. As he departed the last Cunard liner to be equipped with sails for auxiliary propulsion (along with sister ship Umbria, launched 12 weeks earlier), Churchill was for the first time setting foot in his mother's homeland and the city in which she had been born and raised.
Near the end of his westbound voyage Churchill wrote a letter to his mother in which he declared, "I do not contemplate ever taking a sea voyage for pleasure and shall always look upon journeys by sea as necessary evils which have to be undergone (for the) carrying out of any definite plan."
As for his fellow passengers, he wrote: "…there are no nice people on board to speak of, certainly none to write of."
Young Churchill didn't much care for the onboard entertainment, either. "There is to be a concert on board tonight at which all the stupid people among the passengers intend to perform and the stupider ones applaud. The days have seemed very long and uninteresting."
Churchill's view of Cunard vessels softened considerably over the next half century. In 1949, after traveling to the US on Queen Elizabeth and returning on Queen Mary, he wrote to a Cunard-White Star Line director: "I cannot thank you sufficiently for all the kindness and courtesy with which Cunard's have treated me on board 'the Queens,'" he wrote . "…it is now nearly 57 years since I first cruised the Atlantic in the 7000-ton Etruria, and came back in the Lucania, which is a long time as human lives go."
Three years earlier, while traveling on Queen Elizabeth to the US to deliver what would come to be known as his "Iron Curtain" speech in Fulton, Missouri, Churchill wrote a brief, highly favorable forward to a book Cunard-White Star Line was planning to publish about the "Queens."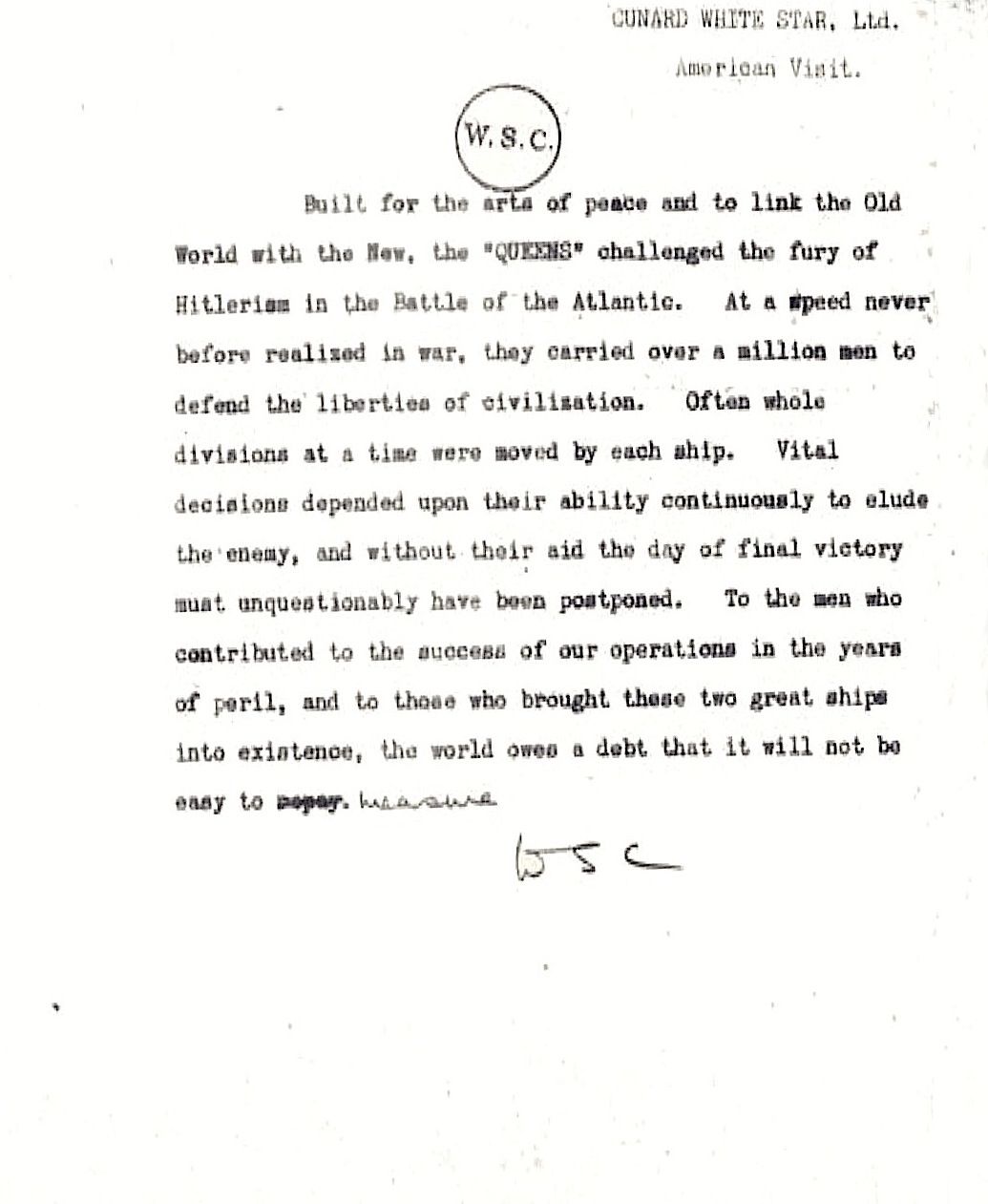 Please help keep Ocean Liners Magazine afloat. Any amount will be greatly appreciated.
—Regards, John Edwards, Editor/Publisher.