Walter Lord, Titanic historian and the author of A Night to Remember, was born on 8 October 1917.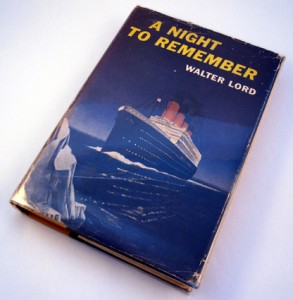 Lord's meticulously researched yet highly readable book, published in 1955, sparked renewed interest in an event that at the time was actually in danger of fading into obscurity.
A Night to Remember was an instant hit, receiving widespread praise from contemporary critics. The New York Times called it "stunning … one of the most exciting books of this or any other year."
Within two months of its publication, A Night to Remember had sold 60,000 copies. It remained listed as a best-seller for six months at a time when there was far more non-fiction book competition than there is today. The Ladies' Home Journal and Reader's Digest both published condensed versions of A Night to Remember and the book was selected in June 1956 by the Book of the Month Club. The first paperback edition was published by Bantam Books in October 1956. A movie version of the book appeared in 1958, and is regarded today as the most factual cinematic portrayal of the Titanic disaster.
Lord's interest in Titanic is said to have been sparked by a boyhood voyage on her sister ship, Olympic.
Walter Lord is most certainly an ocean liner historian to remember.

Please help keep Ocean Liners Magazine afloat. Any amount will be greatly appreciated.
—Regards, John Edwards, Editor/Publisher.