Jack Binns, the first hero of maritime wireless, was born in Brigg, Lincolnshire, England, on 16 September 1884.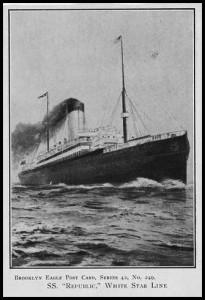 Binns, a Marconi wireless operator, made history and undoubtedly saved many lives on 23 January 1909 by sending the "CQD" distress call from the stricken White Star liner Republic and then steadfastly handling emergency communications for some 36 hours.
Republic had sailed from New York the previous day, bound for a Mediterranean cruise. She was moving cautiously through a thick fog near the Nantucket lightship when Capt. Inman Sealby and his crew heard a foghorn booming through the darkness. An unknown ship was speeding toward Republic.
The two vessels began exchanging whistle blasts, each believing that the other would turn to starboard, thereby avoiding a collision. Yet as the blasts of the mystery ship drew nearer, Republic abruptly reversed her engines and slowed to a stop. Meanwhile, instead of turning away, the other ship—the Lloyd Italiano liner Florida—plowed on, directly into Republic's hull.
The collision tore a hole into Republic that extended below the waterline. Two people on board the wounded White Star liner were killed instantly; two others were badly injured. On Florida, crewmembers on the liner's mangled bow were killed. Altogether seven people died.
Binns' wireless signal was detected and relayed by the nearby Nantucket Island wireless station. US Revenue Cutter Gresham picked up the message from Nantucket and immediately headed to the collision site to help rescue the survivors. Other vessels soon followed, leading to a full-scale rescue effort. Republic eventually sank. Florida, although heavily damaged, survived.
Binns returned to New York an instant hero, thanks to newspaper reports about his critical role in the rescue effort. Binns' fame was so great that it even earned him an invitation to perform on the vaudeville stage. (Today, he probably would be offered his own TV reality series, or perhaps an invitation to appear on Big Brother.) Binns, however, graciously declined the offer. He modestly stated, "I'm no tin god; the stage is no place for me."
Binns was, nonetheless, rewarded with a ticker-tape parade on Broadway and numerous other honors.
Listen to the Stirring Jack Binns Tribute Song!
During World War I, Binns worked as a wireless instructor for the Canadian Flying Corps. In 1924, He began working for Hazeltine, an early electronics firm. Binns became the company's chairman in 1957. He passed away two years later.
Yet Binns' legend endures, at least among maritime and early wireless historians and enthusiasts.
Incidentally, rumors persist that Republic was carrying US$250,000 in gold coins when she sank.

Did you like this article? When you buy anything through the link below, Amazon will contribute a small amount to Ocean Liners Magazine at no extra cost to you.
Shop Now