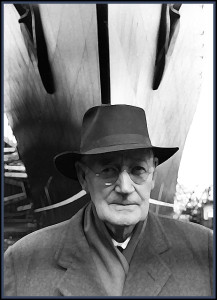 William Francis Gibbs, the naval architect who designed United States, America and many other great ships was born in Philadelphia on 24 August 1886, the son of financier William Warren Gibbs and Frances Ayres (Johnson) Gibbs.
Gibbs' interest in ships, particularly liners, was undoubtedly strengthened by several transatlantic crossings he made with his younger brother, Frederic, starting in 1901. His first crossing was on White Star Line's Oceanic (1899). Other crossings were made on Celtic (1901) and Lusitania. In 1907, Gibbs was on the maiden voyage of Mauretania.
"Despite the animosity many industry people have for him, Gibbs can charm the birds off the trees when he has a mind to," a 1957 Fortune Magazine article observed. "His humor is dry, penetrating, and sardonic; his talent for extemporizing on lumpy technical material, making it palatable to non-technical people, is unsurpassed."
Gibbs could be sentimental, too. He would meet United States—his ship—each time she arrived in New York. "You can't set her on fire, you can't sink her and you can't catch her," was how Gibbs summed up his masterwork.
William Francis Gibbs died on 6 September 1967, at the age of 81. His legacy, the superliner United States, endures (and deserves to be restored to her former glory).
Click here to help preserve America's greatest ocean liner for future generations.

Did you like this article? When you buy anything through the link below, Amazon will contribute a small amount to Oceanliners Magazine at no extra cost to you.
Shop Now