On 9 August 1910, New York Mayor William J. Gaynor boarded Norddeutscher Lloyd's Kaiser Wilhelm der Grosse in Hoboken, New Jersey, to begin a month-long holiday in Europe. But his voyage—and life—almost ended when he was shot by a disgruntled man named John J. Gallagher. Gallagher was seeking vengeance after being fired a few weeks earlier by the city's docks department from his job as a 25-cents-an-hour night watchman on the city's East River piers.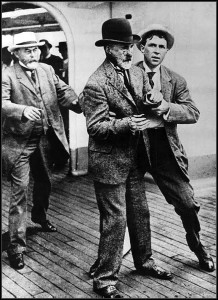 The Irish-born mayor was standing on deck chatting with the president of Chile and press photographers when Gallagher attacked. The 58-year-old would-be assassin shouted, "You took the bread and meat out of my mouth," as he fired several shots from a .38 revolver. The assailant was tackled and disarmed by Street Cleaning Commissioner William Edwards (no relation to the author), a former American football star of the 1890s. Edwards' arm was grazed by a bullet.
"Tell the people goodbye for me," gasped Gaynor, who believed he had been mortally wounded. But after a several-week hospital stay, the mayor recovered. He was back on the job in early October.
Somewhat ironically, Gaynor died three years later of a heart attack suffered onboard another liner—White Star Line's Baltic. A memorial to the former mayor still stands in Brooklyn's Cadman Plaza, just blocks away from the terminal that hosts Queen Mary 2 at the end of her westbound transatlantic voyages.
Footnote: The bearded gentleman wearing the white hat in the photo above is Robert Todd Lincoln, son of assassinated US President Abraham Lincoln.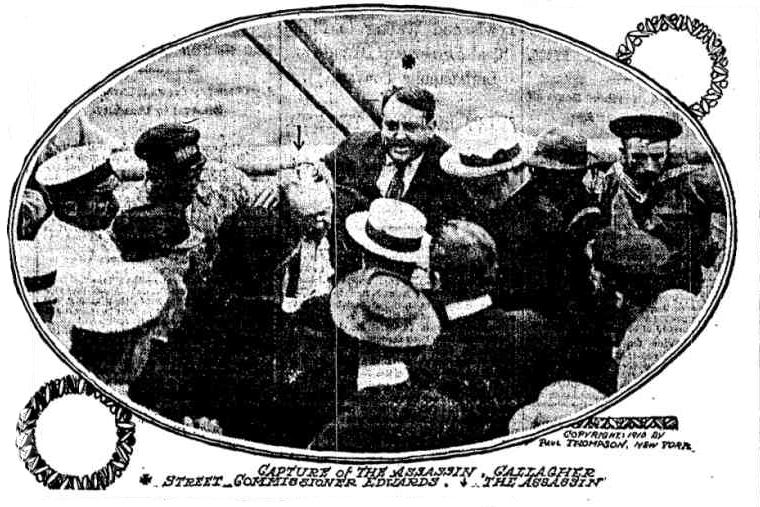 Did you like this article? When you buy anything through the link below, Amazon will contribute a small amount to Ocean Liners Magazine at no extra cost to you.
Shop Now