As Olympic (1911) entered New York harbor on 28 July 1920, a huge crowd gathered on the White Star Line pier. The masses were there to greet—and hopefully get a peek at—movie stars Douglas Fairbanks and Mary Pickford, who were returning from their six-week European honeymoon.
What the crowd didn't know was that a major celebrity-to-be was also on board Olympic that Wednesday. Among the members of the Bob Pender Stage Troupe, which had come to the US for a two-year vaudeville tour, was a sixteen-year-old singer, dancer, juggler and stilt walker named Archibald Leach.
Archie immediately fell in love with America, so much so that when the troupe departed for home he remained behind, performing odd jobs to support himself. Archie returned to Britain in 1923, but later came back to the US to pursue a motion picture career. After adopting a new name and moving to Hollywood, Archie became one of the century's leading screen actors.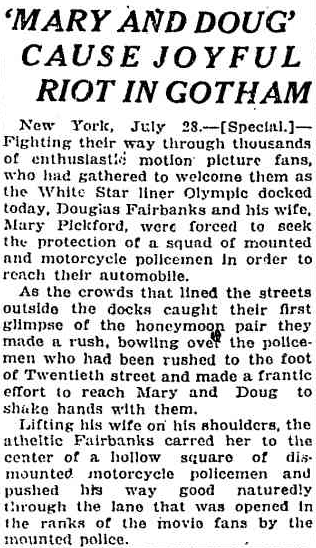 Did you like this article? When you buy anything through the link below, Amazon will contribute a small amount to Oceanliners Magazine at no extra cost to you.
Shop Now