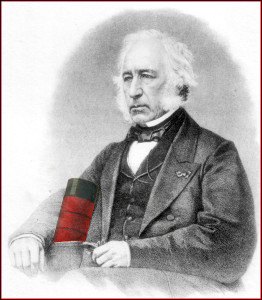 Robert Napier, the engineer often called "The Father of Clyde Shipbuilding," was born in Dumbarton, Scotland, on 21 June 1791.
With Samuel Cunard, Napier was a co-founder of the British and North American Royal Mail Steam Packet Co, later to become Cunard Line. He built many of Cunard's early vessels.
Napier's other, and literally crowning achievement achievement, was originating Cunard's signature red funnel (encircled by two or three black rings, topped with a black cap).
Despite strong objections from London and Liverpool shipping interests, Samuel Cunard turned to Scotland to find shipbuilders for his vessels. Napier, who had carefully studied the technical requirements of starting a transatlantic ocean liner service, created the plans for an 800 tons burthen, 300 horsepower ship. Thomson convinced Cunard that a vessel at least as large and mighty was necessary to meet his needs, and offered to cut his fee to get Cunard to invest in a vessel that was strong, fast and durable enough for sustained ocean liner service.
Napier eventually contributed £6,100 of his own money to the startup capital of £270,000 required to launch Cunard's line. The company's first liner, Britannia, was 207 feet long, 1,154 tons burthen and powered by a 740 horsepower Thomson engine.
James Thomson was employed as Napier's leading smith in 1828. Thomson and his brother, George (also an ex-Napier employee), later founded the Clydebank shipyard of J&G Thomson, which eventually morphed into John Brown & Co., the builder of Queen Mary, Queen Elizabeth 2 and many other legendary ocean liners. A variety of other Clydeside yards were also founded by ex-Napier employees.
Did you like this article? When you buy anything through the link below, Amazon will contribute a small amount to Oceanliners Magazine at no extra cost to you.
Shop Now