The Hales Trophy (officially the North Atlantic Blue Riband Challenge Trophy) is the award presented for the fastest Atlantic crossing by a commercial vessel (most often an ocean liner). It was created in 1935 by Harold K. Hales, a British politician and the owner of Hales Brothers shipping company. The trophy is designed to be a permanent, tangible expression of the Blue Riband, the unofficial accolade then given for this feat.
The Hales Trophy is almost four feet tall, weighing nearly 100 pounds, made of solid silver, onyx and heavy gilt, showing Victory, Neptune and Amphitrite upholding a globe and topped by a figure called Speed urging a liner into the face of a figure called The Force of the Atlantic. An enameled blue ribbon surrounds the middle of the prize, and there are memorials to past record-holders, with Harold Hales's name at the base. —Wikipedia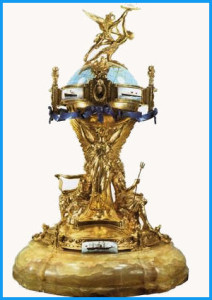 A member of the Conservative Party, Hales was a member of parliament from 1931 to 1935. He one enlivened a House of Commons debate on the herring industry by gesturing with a dead herring as he spoke.
Hales was also said to have inspired the character "Denry Machin" in Arnold Bennett's 1911 novel, "The Card."  The book was later made into a 1952 movie starring Alec Guinness and Petula Clark.
Here's how Time Magazine described Hales in 1935: "Short, red-faced, hearty, with a good opinion of his own wits, an honest satisfaction with his eccentricities, he wears a stand-up 'jam pot' collar and claims to be the only automobile driver in the world who has never once blown his horn." The article also observed that Hales flew an airship around St. Paul's Cathedral in 1908.
Ironically, Hales accidentally drowned in 1942 (in the Thames, not an ocean).
To continue, click the NEXT button on the top of this page.