If you think that age discrimination is a recent trend, consider this article, published in the New York Times on 4 January 1910: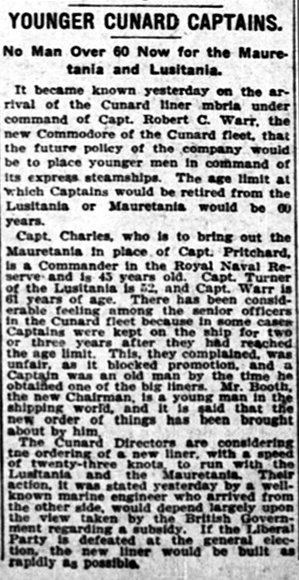 Such a policy, would of course, be illegal in both the UK and US under current laws. Yet it's interesting to study Cunard's rationale for imposing the age limit: defusing disgruntlement among younger, senior officers. The article makes no mention, of course, of women captains. Sadly, such a notion would have been considered outlandish in 1910.
As for that proposed third express liner to run with Mauretania and Lusitania; that would be Aquitania, which was launched in Apri 1913.
Incidentally, the liner "mbria" mentioned in the story's second line is undoubtedly "Umbria."
To continue, click the NEXT button on the top of this page.