The late Dr. Sarah Forbes had a long time fascination with United States. She purchased a large assortment of artifacts and large quantities of the items auctioned in 1984 when the ship's interior was being dismantled in Newport News, Virginia. Many of the items from the Ship purchased by Dr. Forbes were used in her former restaurant in the Outer Banks in North Carolina.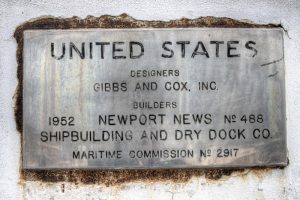 When the restaurant was sold, the items were stored. Some of the artifacts from the Ship have been donated since her death. Many of the items offered in this Final Auction and offering have been in storage for over 30 years and have not been unpacked until now. These remaining items are for sale to the highest bidder at the Auction to be conducted June 17th in Williamsburg at 6933 Richmond Road, Colonial Towne Plaza Shops, Williamsburg, Va. 23188.
The Trustee, E.D. (Buddy) David of David, Kamp & Frank Law Firm, has directed Express Auctioneers & Appraisers to sell these remaining artifacts and collectibles. This Auction includes 75 Chairs of several styles and purposes (1950-1960 styles), Lamps, Tables, Ladder, Doors, Menus and other Ephemera, Dinnerware, Flatware, Linens, Blankets, Bedspreads, Curtains, Galley Items, Stateroom Fixtures, Hardware, Signal Flags and more at Auction. The items will be sold in case lots and/or individually.
Linda Makowski of Express Auctioneers states: "Dr. Forbes appreciated and collected a wide variety of unique items. Property in this auction can be viewed at our websites: http://www.expressauction.com and on http://www.auctionzip.com (id 4843) or call the office at 804-695-1222."
To continue, click the NEXT button on the top of this page.