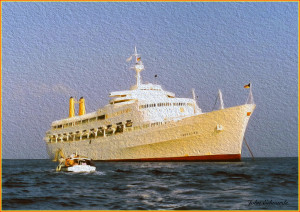 Launched on 16 March 1960 at the Harland & Wolff shipyard, P&O's Canberra was the last great British ocean liner specifically designed for England-Australia service. Sadly, as she left on her maiden voyage on 2 June 1961, she was already obsolete in this role due to increasing jet travel competition and a steady drop in emigration to Australia.
Named after the Australian capital, the 45,270 GRT Canberra was 820 feet long and 103 feet at beam. Canberra‍ 's steam turbines powered massive electric alternators that supplied current to the electric motors that drove the liner's twin screws. The turbo-electric transmission technology eliminated the need for direct mechanical coupling to the propeller shafts. Canberra's most distinctive feature as a pair of twin aft-mounted funnels.
Capable of travelling at speeds of up to 30 knots, Canberra could carry 548 passengers in first class and 1,690 in tourist class, as well as 900 crew members.
To continue, click the NEXT button on the top of this page.