Cunard has announced that fashion royalty Iris Apfel will join its line-up of fashion icons set to sail onboard Queen Mary 2 for the line's second annual Transatlantic Fashion Week (August 31 – September 7, 2017).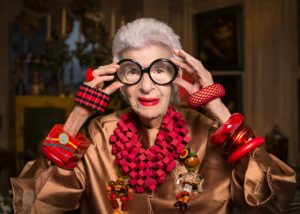 At 95, Iris is a jet-setting celebrity known for her individual style and joyful flair. Featured in cutting-edge style campaigns for Macy's, MAC, Kate Spade, Swarovski and other big-name brands, Iris has become renowned for her signature look of bold round glasses, oversized bangles and necklaces, and rich, flamboyant, colorful garments. The mere announcement of her presence in the fashion week may be enough to encourage people to go on a little spending spree at Macy's – something like this Raise coupon for Macy's would not go unappreciated by someone with a wardrobe to fill.
Over the course of Transatlantic Fashion Week, Iris will be presenting one Q&A session and will introduce a showing of 'Iris,' a documentary featuring fashion, creativity and her soaring free spirit.
"I've lived quite a life of fashion and can't wait to experience style at sea!" said Apfel. "I look forward to being inspired by the elegance and glamour of the occasion and life onboard, especially the formal nights on my voyage across the Atlantic."
Headlining Transatlantic Fashion Week 2017 is designer Julien Macdonald OBE, who is joined by other prestigious names in style including fashion historian Colin McDowell MBE and consultant to the international fashion industry Gail Sackloff OBE as well as top models from Storm Model Management.
To continue, click the NEXT button on the top of this page.