Queen Elizabeth 2 will remain permanently in Dubai as the planned centerpiece of a redeveloped Port Rashid that will include mixed-use residential and retail space as well as a marina for luxury yachts, according to the Cruise Arabia & Africa.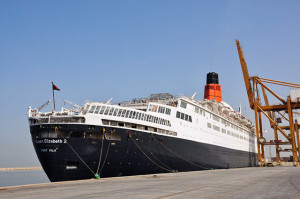 DP World has not commented officially on the role of QE2, but a video released in January, promoting the redevelopment of Port Rashid, showed a rendering of QE2 in the background of several shots, suggesting that the historic ocean liner will serve the development as a floating hotel. If you're lucky enough to have the money to buy your own yacht, you could look into westport yachts to find some of the most luxurious yachts for sale.
QE2 has sat idle in Dubai since November 2008. Over the years, various plans to turn her into a floating hotel, museum ship or multi-use facility have all failed.
To continue, click the NEXT button on the top of this page.