Red Hook, Brooklyn, near Queen Mary 2's western terminal, could be the new home of the long-idled United States, according to a published report.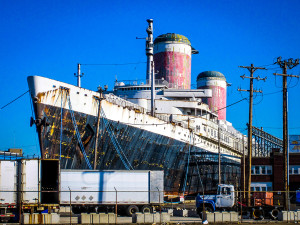 A Brooklyn developer has offered a strategy to convert the liner into a mixed-use development. The Brooklyn Paper reports that John Quadrozzi Jr., the concrete magnate who owns the Gowanus Bay Terminal, has offered to house the ship at that terminal rent-free.  Quadrozzi wants to work with the  SS United States Conservancy to renovate Unted States' 12 decks for various uses, including office space, museums, and a maritime school.
"I can't say enough how exciting it would be to be a part of getting this ship sited in this area of Red Hook," Quadrozzi told the publication. He said his plans for the liner includes creating "offices for startups, a gym and swimming pool, eateries, a theater, a maritime school, and a maritime museum." Quadrozzi also claimed that the liner would be green and self-sustaining, by "converting waste to energy and harnessing solar and wind power."
To continue, click the NEXT button on the top of this page.