Queen Mary was saved in 1967 when the Long Beach, California, city government stepped forward to rescue the historic Cunard ocean liner.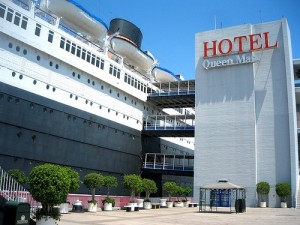 At the time, Queen Mary was envisioned as the centerpiece of a waterfront development project. Yet those plans were never fulfilled. As the liner's management passed from company to company, Queen Mary was marketed at various times as a  hotel, museum, theme park attraction and events center. The liner's surrounding 55 acres were eventually covered by kitschy gift shops and car parks.
This week, the Long Beach City Council took a step toward developing the land adjacent to Queen Mary—and ensuring the liner's long-term survival—by approving the creation of a Queen Mary Land Development Task Force proposed by Mayor Robert Garcia and Vice Mayor Suja Lowenthal. "The Queen Mary is one of our city's most important assets, and development of the surrounding land needs to be done carefully, thoughtfully, and with significant community input," Garcia told the Long Beach Press Telegram.
"We all want to see the best possible use of this historic icon and property, and this Task Force will ensure that residents have a voice in this process," Lowenthal added.
Last year, Queen Mary's operators signed a five-year agreement with Event Network, a San Diego, California, firm that specializes in museum merchandising. The company has a background in bringing retail operations to museums such as the Battleship USS Iowa Museum, the USS Midway Aircraft Carrier and the Smithsonian Institution.
In February, a new ship model gallery opened on Queen Mary, the first stage of a planned 65,000-square-foot museum and science learning center scheduled to open in 2016.
As efforts continue to save vessels such as Queen Elizabeth 2 and United States, Queen Mary provides both a lesson and example of historic ocean liner repurposing.